Trying to transition a traditional curriculum to an online setting can be overwhelming especially as we juggle taking care of our own families. The biggest struggle for me has been feeling a constant state of dissatisfaction because I feel like I'm not reaching every student; this has led to a lot of trial & error.
Here are a few strategies I've found to be effective while teaching via video conferencing the past couple months.
1. Public Chat 
a. Check-in: Similar to the small talk you make with students as they enter your classroom, post a prompt for students to respond to in the public chat as they join the video conference:
Has your family had a celebration recently? Birthday, holiday (Easter, Ramadan, etc.) How did you celebrate?
What superhero would you be to defeat COVID-19? Why?
What's your most memorable experience during the shelter-in-place?
What have you been doing to stay active & healthy?
Where are you on the mood meter? Explain.
b. Gather Questions & Ideas: Write 1 discussion questions from the video you just watched; What activity has been most helpful in learning how to conjugate verbs in the past tense?
2. Structured Group Work
A video conference facilitated by a teacher can easily turn into a one-way lecture. You can more effectively engage students by deliberating planning for collaboration.
a. Breakout rooms: Canvas and Zoom allow you to create random or assigned groups. You can also move in & out of each group to check-in and be sure students are on-task.
b. Shared Google Docs & Slides: You can use a shared Google Doc that is clearly organized to let students/groups know what to write where. (Check out this sample collaborative Google Doc and Alice Keeler's suggestions for collaborative Google Slides)
Tip: Change the shared settings on the Google Doc/Slide so anyone with the link within your organization can edit so you can see what each student has contributed:
3. Checks for Understanding
a. Polling: Canvas and Zoom allow you to poll your students. The results can be great discussion starters (e.g. Do you agree or disagee with using drones to fight terrorism?) or check for understand (e.g. Solve for X: 15 = 2x + 5 ; A) x=4 B) x=5 C) x= 10 D) none are correct)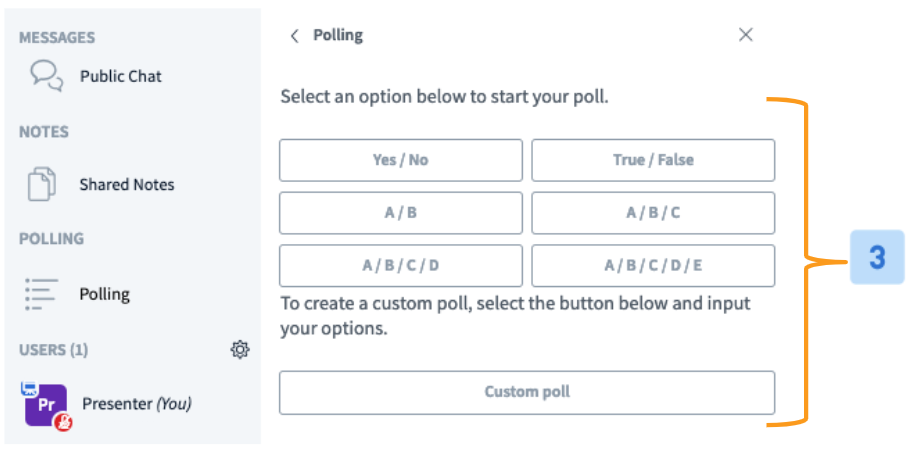 b. Hand signals: If students have their cameras on, you can quickly check for student understanding with the following signals.
Thumbs up, sideways, thumbs down: How well do you feel you understand the motivations of Hamlet? How helpful was this video in explaining how to balance the single-replacement equation?

Raise your hand if: You can see…on the screen ; You agree with the statement…. ;
There is no digital tool that can ever fully replace high quality in-person teaching; hopefully these tips can help you re-create some of the effective instruction you're accustomed to delivering everyday in the classroom!